As the leaves change color and cooler winds embrace many parts of the world, there's no better time to seek refuge in the warmth and splendor of Marbella's luxury coastal properties. Located on the stunning Costa del Sol, Marbella offers a paradise that remains inviting even in the heart of November. In this blog post, we'll unveil a collection of our most extraordinary listings, designed to be your perfect winter retreat. From cosy beachfront villas with inviting fireplaces to chic penthouses offering breathtaking sea views, allow us to guide you through a journey of envisioning your dream November escape.
Embrace the warmth of Marbella
Marbella, with its mild Mediterranean climate, is a year-round haven for those seeking a luxurious retreat. Even as the rest of the world bundles up, you can still bask in the gentle caress of the Spanish sun on the Costa del Sol. Picture yourself enjoying a leisurely breakfast on the terrace of your seafront villa, the golden rays of the morning sun reflecting off the crystal-clear waters. Marbella's climate is a constant embrace, making it a fantastic choice for your November getaway.
Cosy beachfront villa in San Pedro de Alcántara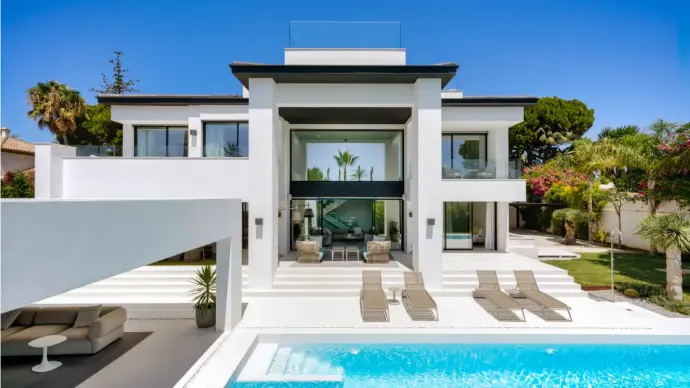 Located in the heart of San Pedro de Alcántara, this stunning beachfront villa epitomizes luxury living, effortlessly marrying contemporary design with exceptional craftsmanship. Spanning across four levels, villa Harmonia offers an expansive 440m2 of living space, accompanied by an impressive 280m2 of terrace area. Set on a generous 1,000m2 plot, this beachfront sanctuary provides breathtaking views of the sea, gardens and mountains, crafting a truly captivating environment.
The well-manicured private garden and inviting swimming pool create an idyllic outdoor space, perfect for relaxation and entertainment, making it an ideal choice for your November retreat. No expense has been spared in upgrading the kitchen and bathrooms, featuring premium materials and state-of-the-art appliances, ensuring a superior living experience. The property is equipped with a smart home domótica system, offering seamless control of lighting, security and more.
For ultimate comfort, you'll appreciate the underfloor heating, air conditioning, and the convenience of an elevator that serves all floors. With shops just a 2-minute drive away and restaurants within a 1-minute walk, you're conveniently close to everyday essentials. St. George's School is a mere 5-minute walk and the pristine beach is just a minute's stroll from your door. With two covered carport spaces and additional parking spaces within the gated property, there's ample parking for both residents and guests.
Stylish penthouse in Benahavis with panoramic sea views for your November retreat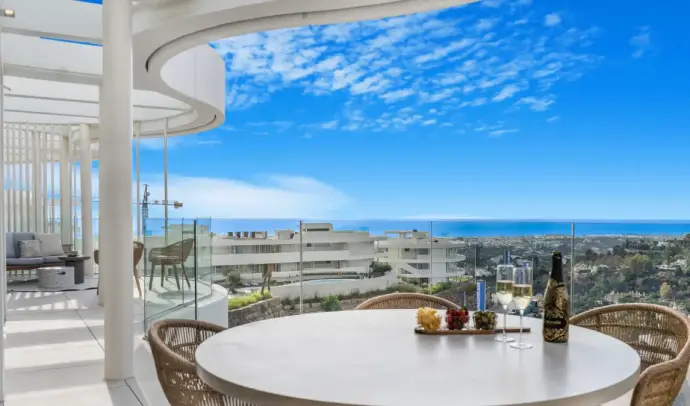 This exceptional penthouse embraces a coveted south-facing orientation, making it the perfect choice for your November retreat. Located within an upscale gated complex, this penthouse is in impeccable condition and offers a wealth of modern features that promise an extraordinary stay. From the moment you step inside, you'll be entranced by the elegance and comfort it provides. One of the standout features of this penthouse is its access to a range of top-notch amenities. Take a refreshing dip in the indoor heated communal pool, indulge in relaxation in the sauna, or maintain your fitness routine in the gym facilities. The complex also ensures your peace of mind with 24-hour security. Regardless of the season, you'll always enjoy the ideal climate, thanks to air conditioning, hot/cold air and underfloor heating.What sets this penthouse apart is the breathtaking panoramic views that greet you from the panoramic windows. Every glance outside your window is akin to gazing at a masterpiece. With an elevator, fitted wardrobes, private terrace, gym, sauna, storage room, utility room, and en-suite bathroom, this penthouse is designed for luxury living. Double glazing and domotics add modernity and convenience. Your vehicles will find secure shelter in the underground parking facilities. This south-facing penthouse represents the pinnacle of luxury and comfort.It offers a contemporary living space that embodies the essence of modern design. For those with refined taste and a desire for convenience, this penthouse is the perfect choice. The optional furnishings allow you to tailor it to your unique style and taste. The fully fitted kitchen is a chef's dream, equipped with modern appliances and ample counter space for your culinary masterpieces. Enjoy the well-maintained communal garden areas, which add to the overall charm of the complex. Choose this south-facing penthouse in Benahavis, and you'll experience the epitome of luxury and comfort, making it the ideal setting for your November retreat. For those who prefer elevated living, our selection of penthouses will captivate your heart. Picture sipping a glass of fine wine on your expansive terrace, gazing out over the endless expanse of the Mediterranean. These penthouses offer not only a stylish and modern ambiance but also panoramic sea views that will take your breath away. The November sunsets in Marbella are a sight to behold and you can have a front-row seat from the comfort of your penthouse.
Avant-garde coastal living new development apartment in Benalmadena

This luxury new development apartment represents an ideal of a November retreat. Welcome to a coastal living experience where avant-garde design meets the serene beauty of the Mediterranean Sea. Positioned just moments away from the bustling port, these apartments enjoy a prime location that seamlessly combines the convenience of urban living with the tranquility of seaside bliss. Step into a world of modern elegance, where every curve and contour of the design harmonizes with the natural waves of the sea. Each meticulous detail has been thoughtfully crafted to create a living space that's as functional as it is visually striking. With 3 well-appointed bedrooms, these apartments offer ample space for residents and guests, ensuring a sense of relaxation and comfort that's unparalleled.
Escape the ordinary and embrace the extraordinary with a communal pool that serves as a tranquil oasis, where you can cool off, bask in the sun and connect with neighbors, all while gazing out at the mesmerizing Mediterranean horizon. This new development apartment is not just a residence; it is a lifestyle. Step into the future of coastal living, with all the modern amenities and comforts your heart desires.
Why choose this luxury apartment in Cabopino for your November retreat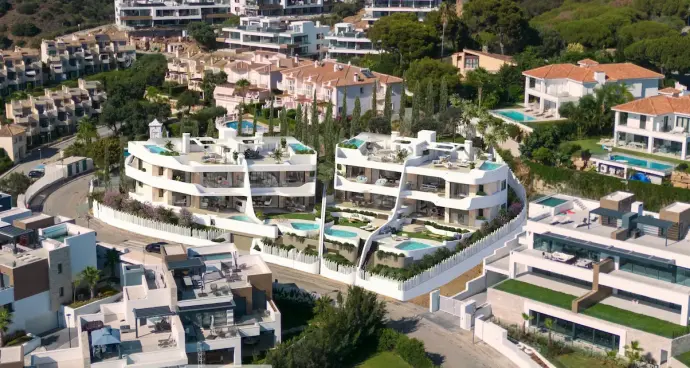 This luxury apartment, with its 3 bedrooms and 3 bathrooms, offers an impressive 335m2 of living space. It's not just a property; it's a testament to avant-garde design and the art of coastal living. The apartment is located in Cabopino area, ensuring optimal sun exposure and breathtaking panoramic sea views that will take your breath away.Your private oasis awaits, complete with a sparkling pool and a meticulously maintained private garden. It's a place where you can unwind and relax, enjoying the Mediterranean breeze. Every aspect of this apartment has been thoughtfully considered, from the innovative design to the impeccable finishings.
Moreover, its strategic location places you just 5 minutes away from the stunning dunes of Artola, perfect for leisurely coastal strolls. For golf enthusiasts, the nearby Cabopino golf course offers an opportunity to tee off and enjoy the fairways. With Marbella a mere 15 minutes away and Malaga Airport within a swift 30-minute drive, you're well-connected to both urban and international destinations.
This apartment is more than just a property; it's a haven of modern design, luxurious amenities, and a privileged location, making it the ideal choice for a November retreat that seamlessly combines style, comfort, and the beauty of Marbella's coastal living.
If any of these exquisite properties have captured your imagination, don't hesitate to contact us today to schedule a private viewing and turn your dream retreat into a reality.